Pontoon boats come in a variety of shapes and sizes. They are popular for commercial and leisure use but what exactly is this type of boat and what is it used for?
A pontoon boat is a watercraft that uses 2 or more rows of sealed tubes, called pontoons, for buoyancy. When connected together the pontoons form a multi-hull section that the deck area is built upon. Pontoon boats can be commercial, industrial or recreational.
The history of the pontoon boat
Pontoon boats have come a long way since their inception in the late 1930's when they were no more than a few barrels welded together with a deck area strapped on top of them. Nowadays, pontoon boats can be used for many things such as for transporting anything from goods used in heavy industry to small leisure craft, and everything in-between.
A pontoon boat was once considered to be merely functional, being slow and cumbersome due in part to its design and in part its underpowered motors. Some had no motors fitted at all.
Historically, a pontoon was built from floating tubes and a simple flat deck. The vessel was so suitable for heavy haulage and industrial use that the design has changed very little though these commercial boats are a far cry from the modern leisure pontoon boats used today.
When historical pontoons are compared to modern leisure pontoon boats the two appear to be almost unrelated.
A pontoon boat can be powered by a variety of methods. The method of propulsion depends largely on the vessel's intended use.
A large pontoon boat laden with cargo can also be tugged by a powered vessel while smaller pontoon boats can be powered by an outboard motor.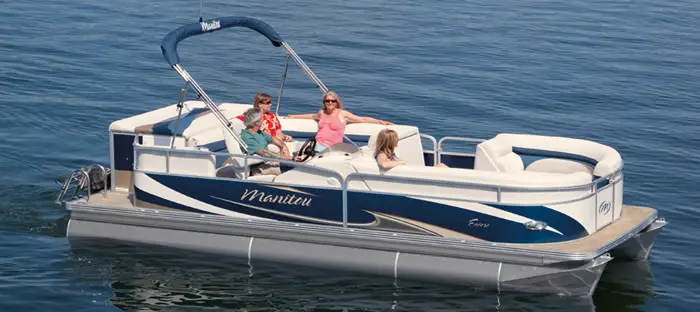 The 5 different types of pontoon boat
Popular pontoon boat choices range from fishing boat conversions complete with rod holders and storage areas, to sports boats fitted with powerful engines which can be used for towing skies and inflatables etc.
Let's not forget the leisure cruiser with fitted options such as executive style seating, the latest in high-tech sound systems and a fully functional bar – all of which take the simple pontoon boat to new heights of luxury.
At the total opposite end of the glamorous scale, is the commercial and industrial pontoon. These hard working pontoon boats with their basic hull shapes are used for transporting bulky cargo and heavy haulage across waterways.
5 types of modern pontoon boat:
Small pontoon boats: These are generally under 10 feet in length and built for a single occupant. The pontoons on the boat can be made from inflatable material or heavy duty abrasion resistant PVC. Here is an example of a small inflatable pontoon boat which is lightweight and perfect for rowing.  Being jam-packed with features, inflatable pontoon boats offer an inexpensive way to start boating. Tough plastic pontoons are also available and offer a more robust hull.
Mini pontoon boats: Mini pontoon boats are slightly larger than inflatables, around 15 – 20 feet and are made from more durable aluminium. They are just as easily manoeuvrable and lightweight as small pontoon boats but offer deck space for two to four occupants. They are usually fitted with motors and on-deck comforts such as seats, handrails and even cockpit areas.
Leisure class pontoon boats: These boats offer a higher level of comfort, style and performance. Larger in size they require larger engines and are finished to a very high specification. Typical sizes of 20 – 30 feet and beyond, they can be built with exceptional quality and finish and comfortably accommodate around fifteen occupants.
Commercial pontoon boats: Commercial pontoon boats can range from passenger and vehicle ferries to super sized river cruisers and houseboats (though many houseboats are homemade).
Industrial pontoon boats: Industrial pontoon boats are the trucks, big rigs and heavy haulers of the waterways.
Pontoon boats are great for fishing
According to the American Sportfishing Association anglers generate over $45 billion in retail sales with a $125 billion impact on the nation's economy. That's not surprising when we see the amount of anglers there are in the USA. Sport fishing in America is enjoyed by 49 million people nationwide which is more than golf (21 million) and tennis (13 million) combined.
That's a staggering number of anglers and if we assume a small percentage of these anglers each own a boat, then it's easy to see that equates to a large number of boat owners out there, but which boat is best for fishing?
Realistically it's possible to fish from just about any boat but which boat is best suited to recreational fishing?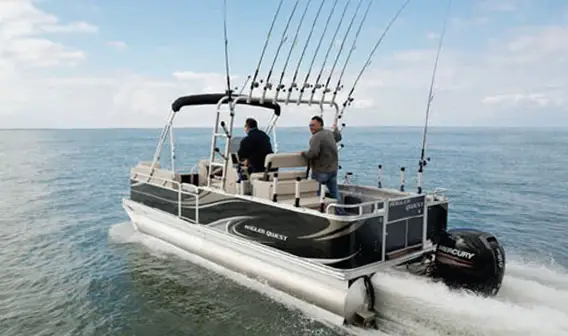 Why use a pontoon boat for fishing?
One very versatile boat worth considering is a pontoon boat that has been built specifically for fishing. Fishing pontoons provide extra levels of comfort for anglers not just because of the extra space on deck but when seats are installed, ample fishing rod holders added and storage areas for the mass of tackle and equipment is included, the pontoon starts to become a serious contender as a bona fide fishing boat.
One of the natural qualities of a pontoon design is the overall stability which is a great boon for anyone on board, never mind fishermen wrestling a sizeable catch. Whether at a standstill or powering through the water, pontoon boats provide great stability and can even tackle mildly choppy waters with ease, delivering a smooth ride at the same time.
A by-product of the basic pontoon boat design is the substantial, unobstructed deck space that is made available. Not only can the deck be kitted with all the accoutrements that fishermen are forever dreaming of, there still remains space to accommodate a small crew in comfort. Pontoons hull types have a fairly shallow draft which enables fishing in skinny water, a natural draw for some fishermen.
Available in sizes from individual mini pontoons of less than 10 feet to 30 feet and beyond, there is a dedicated fishing pontoon to satisfy any anglers yearning to become waterborne.
Pontoon fishing boats are best suited to large inland waterways. They are not considered seaworthy craft and therefore should not be used in the ocean are often too large and bulky for river use. A Jon boat is often the preferred vessel for river fishing.
Popular pontoon fishing boats
There are a lot of pontoon boat manufacturers and each build a range of vessels to suit various boating needs, some examples are:
Inflatable Fishing Pontoon Boats / Inflatable Fishing Boats: These tiny pontoons offer the intrepid fisherman individual access to the water using basic inflatable pontoons. The small deck area is kitted out with a seat, some storage and fishing rod holders etc, perfect for the shorelines of lakes and rivers.
Mini Pontoon Boats: These are larger than inflatable pontoons and can hold two or more crew. Great fun sized pontoons for one or two fishermen or just for the family to enjoy the water.
25 feet dual engine pontoon boats: These powerful boats have large pontoons that offer a great base to fit more luxurious platforms on, creating leisure craft for up to 12 people or more. These are great fun sports and leisure craft perfect for large lakes and similar calm waterways.
Commercial / Industrial pontoons: These are the cumbersome behemoth pontoon

s

barges built to withstand the heavy duty everyday knocks associated with heavy haulage, cargo transportation and for ferrying large numbers of passengers.
The pontoon boat is popular for water sports
Can a pontoon boat be used for water sports?
Yes, not only can you use a pontoon for water sports but they are one of the best inland water vessels for the purpose.
Using pontoon boats for water sports was practically unheard of until fairly recent times with this type of boat only having been invented in 1951 by a Minnesota farmer named Ambrose Weeres. However, with the advances in design, construction and with the addition of more powerful motors, pontoon boats are becoming the natural choice for many water sport activities.
Water sports require powerful motors to tow skies and inflatables at sufficiently thrilling speeds. It is possible to power up a pontoon boat to beyond 50mph, which is almost unthinkable using a standard pontoon hull.
The trick to higher speeds is to add a third pontoon.

Pontoon boats are the popular choice for inland-waterway leisure and luxury
Although pontoon boats can be used for a wide range of activities they are best known as leisure boats. Simply put, it is the area of leisure that pontoon boats really shine.
Within the leisure industry pontoon boats have carved their very own niche being daubed the 'party boat' and it's easy to see why. Quality engineering and powerful engines aside, some leisure pontoons offer very high-end finishes on a par with some super yachts.
Sumptuous seating areas, cool LED lighting options, a quality sound system and even a grill are just some of the extras you can expect of leisure craft but it with a pontoon you get the spaciousness to enjoy it all.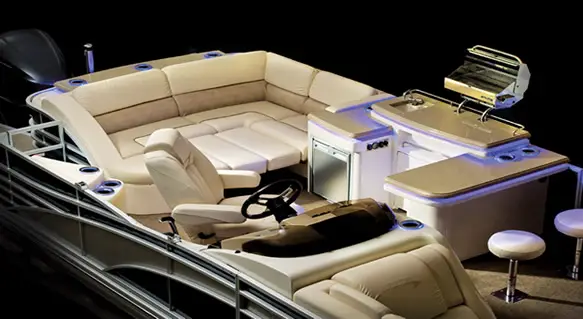 Why leisure pontoon boats are so popular
There are available pontoon houseboats that are floating trailers – the caravan of the waterways. They are great for enjoying as a holiday home or for a quick get-away.
Such a boat will normally remain static in a dock, though they can also be motored to other locations within canals, lakes and calm waters if an outboard motor is fitted.
Double Decker Pontoon Boats are also a variation on the popular single deck. A simple upper deck is constructed to allow more space and comfort for passengers. They also double up as great diving platforms from a height.
Leisure pontoon boats can carry a host of pontoon boat accessories from making your time on the boat more fun.
3 Important things to consider when buying or renting a pontoon boat
Pontoon boats are extremely versatile, easily constructed and very customizable. These qualities make them irresistible to boat builders and boat owners alike as it allows creativity in design and function to which has produced some stunning modern pontoon boats from the very basic to the most luxurious.
It turns out there's quite a few things to consider if you're thinking about purchasing a pontoon boat.
Here are a few pointers.
Overall boat size.
Engine and output requirements.
Inland waterways or ocean-going use?
Onboard equipment.
For a guide on the prices of pontoon boats read this article.
Overall boat size
Handling a pontoon boat in the water is a skill that is acquired with time, practice and some trial and error to get a feel for the boat. Like any boat, the overall size will affect the characteristics of the vessel in a variety of conditions.
Also, with a larger boat, more damage is likely to occur if things go wrong! Hitting a dock will cost considerably more to repair than using a smaller, more manageable boat, for example.
While your pontoon boat is likely to spend most of its time in the water, time out of the water is also a consideration when thinking about boat size.
Some small pontoon boats can be deflated to make them more manageable and easily handled by a single person and mini pontoons can be trailered just as easily.
The larger the boat however, the more difficult it will be to dry dock, tow, store, winterize, maintain and so on, so boat size is an important factor to keep in mind, especially if you are on your own.
A large pontoon boat is also best suited to larger bodies of waters such as lakes. Obviously larger boats are more expensive to purchase but you should be aware that running costs also increase with an increase in boat size.
Engine and output requirements
When you've finally determined which size of boat best serves your needs, the next consideration is engine size.
If you use your pontoon to leisurely fish along a shallow shoreline, do you really need a big expensive motor?
Quite frankly, No is the answer to that!
Finding the correct outboard motor with the correct power output will save on fuel, efficiency, handling and so on, so be sure to get this choice right.
Onboard equipment
As the design of a pontoon hull is virtually the same regardless of make and model, it's the choice of finish on deck that determines the end use of the boat. Built-in fishing equipment means it becomes a fishing boat, powerful motors are required if you want it to be a sports boat, plush fittings help for leisure cruising etc.
A pontoon boat's design makes it a very versatile vessel. There are a myriad of different types of pontoon boat available from the mini inflatable to the large industrial platform.
Here are the most common uses for modern pontoon boats?
Fishing – Used in inland waterways and ocean bays and coves.
Sports – Suitable for water skies, Tubing, scuba platform diving.
Leisure – Pontoon boats are great for family friendly fun, partying and cruising.
Multi-purpose – With the right configuration a pontoon boat can be used for all of the above.
The construction material used to build the pontoon boat
With modern construction techniques and improvements in design, the pontoon boats popularity is set to increase over time. With their sleek looks and high specification, pontoon boats are becoming increasingly associated with recreational use, so it's easy to see why pontoon boats are fast becoming the party-goers choice.
Pontoon boats are considered flat-bottomed because of their flat bottom hull design. The pontoons are attached to the flat bottom of the boat. This gives the boat a relatively shallow draft and so offers the skipper the advantage of being able to use the vessel close to shore and in shallow harbours etc.
The flat deck of the pontoon boat design allows a variety of modifications to be carried out to enable the boat to be virtually custom-made.
Pontoon boats are usually constructed of any of the following materials:
Inflatable: Small pontoon boats can be made from inflatable material. They are a fairly sturdy and cheap way to get your hands on a pontoon boat.
Foam – Foam-filled pontoon boats are cheap to manufacture and many of the smaller vessels will be made from this material. They typically have a plastic exterior and as they are filled with foam they do not require a thick shell to protect the interior. This type of pontoon boat needs to be narrow – the wider the boat the lower it will sit in the water. These boats tend to create more drag, and thus have slower speeds, and poor fuel economy.
Fiberglass– Fiberglass is a popular material for boat construction because it's lightweight and durable. Fiberglass pontoon boats are rust-proof and due to their lightweight nature are very fuel-efficient.
Steel– A less common material used for pontoon boat construction is steel. This is because steel rusts over time especially when exposed to water. It requires regular maintenance to ensure a steel pontoon does not develop cracks which lead to leaks. Repairs can be expensive.
Aluminum– Aluminum pontoon boats are the most common type on the water. Aluminum is very durable with maintenance costs being low and repairs being relatively inexpensive. Aluminum corrodes in saltwater though so if you intend to use your boat close to the coast in ocean water or on inland bodies of saltwater then an aluminum pontoon boat may not be the best choice..
As pontoon boats have become faster, especially in leisure use, the hull has seen the addition of a third pontoon as mentioned previously. The extra pontoon has the advantage of additional stability, especially at speed and when cornering.
Sometimes called a 'Tritoon' it is now common to see pontoons with powerful motors fitted with a third tube. Although more expensive to buy, either new or retrofit, the advantages far outweighs the extra cost.
Popular Pontoon Manufacturers and Dealers
Read this before you consider using a pontoon boat in the ocean
You are not advised to use a pontoon boats in poor weather conditions or where choppy waters are likely to occur, such as the open sea. Because a pontoon boat has a flat bottom hull, this makes it susceptible to swamping, instability and potential capsizing if used in unfavorable conditions.
Like with all flat bottom boats extra care must be taken on a pontoon boat and skipper awareness is "a must" at all times when the boat and crew are at risk from potentially dangerous weather conditions.
Read this article for more information on taking a pontoon boat out to saltwater seas and check out this one to see how dangerous it can be to drive a pontoon boat in rough water (which is commonplace in oceans).
A word about the Tritoon: the three tube boat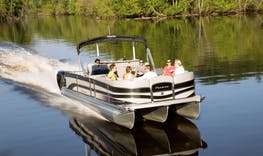 This extra tube not only provides greater stability at speed but of course offers additional buoyancy and weight distribution when stationary.
Another advantage to the 'Tritoon' (as the triple hull is sometimes known) is that it provides greater manoeuvrability at speed.
The center tube is slightly lower in the water allowing the overall hull to act in a similar way to deep-V hulls, increasing turn rates and cornering at speed.
A clever adaptation of the center tube is to square-off the base of the tube to create a flat area, this allows the hull to plane across the surface of the water, increasing fuel efficiency, handling and overall performance.
The down side to Tritoon hulls is the added expense but those in the boating world highly recommend them as the advantages are worth it in every respect.