Pontoon boats have grown in popularity since their inception in the 1950s. With this growth of interest in those boat type more and more boat manufacturers are starting to design pontoons of different sizes and for different purposes and of course with different price tags.
How much does a pontoon boat cost?
Depending on the size, finish and fit-out  the overall purchase cost of a pontoon boat can be as low as a few hundred dollars for a single-person inflatable boat or as high as several hundred thousand dollars for the mammoth luxury ones. Pontoon boat rental costs vary between states ranging from below $100 to just under $500 for several hours use.
The most popular recreational pontoon boats will fall into the range of $18,000 – $60,000 though you can pay over $100,000+ for very large luxury models.
Pontoon Boat Cost Factors
Cost of course is very dependent on a number of factors including the size of the hull, engine type, finish and construction materials used.
A top-quality pontoon boat could be purchased from a showroom for as low as $20,000. However, with some forethought and planning, a very stylish pontoon boat can be created for a fraction of this cost, if considering a self-build.
Purchasing a pre-owned pontoon boat is also an option to the cash-conscious boat owner. Obviously due diligence is to be observed as used boats may have faults and some may require modifications or upgrades but a used pontoon boat can be bought for around $15,000 which can then be customised to suit.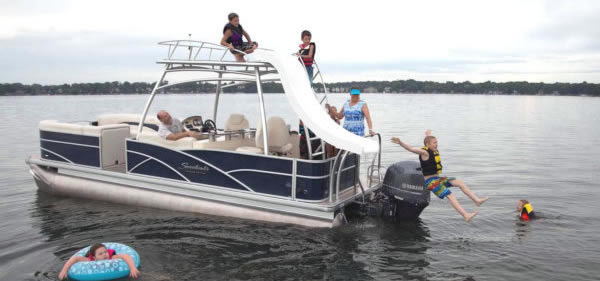 Average cost of a pontoon boat based on size
A single person inflatable pontoon boat will usually be less than $500. Here is an example.
A small pontoon boat that can accommodate about two people can be purchased for less than $2,500, like this one, or as much as $14,500 depending on construction material.
A medium pontoon boat that can accommodate up to six people can cost up to $22,00.
A large pontoon boat can cost up to $47,000 and can accommodate about a dozen people.
Mammoth luxury pontoon boats sell for hundreds of thousands of dollars.
The average lifespan of a pontoon boat is around 16 to 18 years so consideration must be given to the purchase of an older boat so that some value remains before overhaul or scrapping it altogether.
Small pontoon boat: Pontoon boats that are less than 20 feet in length are referred to as small pontoon boats. They have a width between 6 to 8 feet along with two pontoons installed underneath of around 24 inches diameters each.
Medium pontoon boat: Medium sized pontoon boats are usually between 20 to 40 feet in length with a width of 8 to 10 feet. A total of 3 pontoons, (sometimes called a Tri-toon) can be installed underneath depending on the size.
Large pontoon boat: Large pontoons too can be 20 to 40 feet in length but have a width of 12 feet. These pontoons are much bigger and can go up to 26 feet in diameter.
Types of pontoon boats & how much they cost
There are various kinds of pontoon boats to choose from. If you need a better understanding of what a pontoon boat is and what it can be used for read this.
High performance pontoons and & how much they cost
High performance pontoon boats are for people who prefer high speed. This type of boat is equipped with a sizeable motor that offers a lot of horsepower.
They are usually priced between $30,000 to $45,000 depending on the size of the craft and the size and power of the engine.

Water sports pontoon boats & how much they cost
If you want to tow water skiers, tubes, wake boards then a water sport styled pontoon is required.
It needs a powerful engine to haul sports equipment and people at speed. These boats are also likely equipped with specific metal sport arches that give them a sporty and stylish look.
You can usually customize these boats before purchase with graphics and custom paint. They can cost between $25,000 to $35,000 depending largely on the size of the engine.
Luxury pontoon boats & how much they cost
If comfort, as well as style and flamboyance are what you expect from a boat then a luxury pontoon could be the choice for you. These super sleek and stylish boats be produced to exacting styles and standards and fully customized to your individual needs and desires.
Typically, a luxury pontoon boat not just amazing comfort and space but it will have dual engines that operate silently, joystick steering and can be trimmed out to include a bar, large lounge and be decorated with LED lights, a high-tech sound system and all mod-cons.
Luxury pontoon style boats are usually priced between $50,000 to $100,000 due to their luxury design though they can go much higher in to the several hundred thousand dollar range.
Be sure to read our 15 pontoon boat party ideas if you want a pontoon boat for leisure.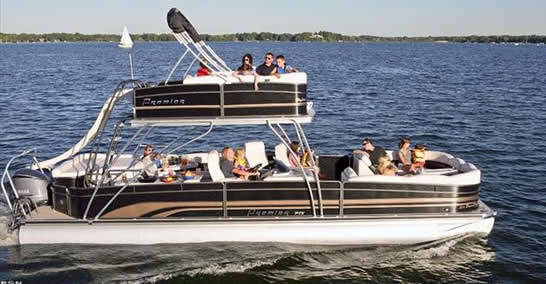 Fishing Pontoon boats & how much they cost
These boats are spacey and light with enough room on deck to keep livewells, fishing rods, and other materials required for fishing trips.
Fishing pontoons are ideal for shallow or 'skinny' waters as they have a shallow draft.
They are priced between $15,000 to $23,000 depending on the level of fishing equipment installed.
Family Entertainment Pontoons
These boats are large in size and can accommodate big families.
A family pontoon boat will have a vast layout with lots of space and a luxury lounge for a family to relax, eat and play.
Such a boat can cost between $45,000 to $80,000 depending on factors such as the size of the boat and engine.
Costs examples for accessories and upgrades:
Engines: $12,000 to $20,000
Vinyl decking: $800
Carpet decking: $300
Engine upgrade: $900 – $2000
Fishing livewell: $200 – $1000
Camping cover: $2000
Speakers: $150 – $200
Ski tow bars: $200 – $700
There are lots of different pontoon boat accessories that you can carry onboard so the above list is far from exhaustive.
Contributing costs to pontoon boats
The price of the boat is not the only consideration when it comes to cost.
You may see marketing information that states a specific pontoon boat "starts from $xxxx" but when you add all those extras that are not really extras at all, like a motor, the boat price suddenly starts spiraling upwards.
Let's take a look at these additional costs in closer detail to see how they affect the overall purchase price of the boat.
The Motor
One of the most important parts of a pontoon boat is the engine. In fact, most of the cost of a pontoon boat is due to the price of the motor.
A variety of engines are available in different shapes, sizes, and types.
You need to determine your requirements and select the motor most suitable one for you. For example, you may go for engines that offers an EFI system (Efficient Fuel Injection) if you want to save fuel or you may want an engine with more Horsepower. But be aware that even a slight upgrade in HP can mean a huge increase in price.
Upgrading from a 90 HP motor to a 110 HP motor will cost you an extra $900 – $2,000 while upgrading from a 115 HP to a 150 HP will cost you an extra $2,400 – $3,500.
Keep in mind the price of the motors needed for the boat you buy as the boat will likely outlive the motor – a motor will lose their efficiency with time and there comes a point when it will need to be totally overhauled or, more likely, replaced.
The type of motor or motors you mount on the vessel will have very little effect on how you drive a pontoon boat but may change how the boat performs in rough water.
How To Select The Right Engine For Your Pontoon Boat
Deck Material
Another important aspect of a pontoon boat is the deck material used. While there are many options to choose from, vinyl and carpets are two of the most common.
Several surveys have revealed that around 73% of people prefer vinyl decking while only 21% go for carpeting. Carpeting requires constant cleaning and tends to smell when it gets wet while vinyl is easy to clean and remains smell-free for its life-duration.
There's almost a 50% difference between the price of the two options as well.
For a mid-sized boat, vinyl decking will cost you around $800 if you do it yourself while carpeting will cost around $350.
Typical Pontoon Boat Accessory Costs
Bimini canopy: This is a fold-away canopy that protects passengers from the scorching sun by providing shade and comfort. Usually cost about $700 locally tough you can get them cheaper
Camping cover: A handy accessory that will cover the boat entirely. It can cost up to $2,000
Trolling motor: A trolling motor is a battery operated motor suited to small pontoons. It comes with 2 batteries, onboard charger, wiring, and battery boxes. These cost about $2,000. If fitting a trolling motor to small pontoon that is sold without one the cost of going on the water can quickly double.
Fishing livewell: If you are a fishing enthusiast then you'll need a fishing livewell. It is a container that is used for keeping live fish. These can be bought for as low as $200 or as high as $1000, depending on quality and size.
Ski tow bars: These are used in most watersports pontoon boats as they help tow sports equipment. They are priced between $200 – $700.
Sounds system: Boat speakers with adequate protection from the elements and sufficient wattage to be heard outdoors can be bought for as little as $150 or as much as $1000+.
Pontoon Boat Running Costs
Gas: A 25-gallon gas tank would take around $50 to fill up at 2019 prices. Economically, it will cost you $5 to cover a one-hour journey at a speed of 22 mph.
Gas refueler: You will also need to buy a gas refueler (gas caddy) for a pontoon which will cost around $200.
Fresh water: A water filter system can cost around $80.
Waste management: A large pontoon may have a toilet with a MSD* (Marine Sanitation Device) installed. If your boat does not have one you have the option to get a portable toilet for less than $100.
Boat maintenance: You will need to keep your pontoon boat well maintained to enhance its lifespan. The maintenance involves replacing damaged parts and buying accessories for protection. Costs will vary.
Paint: Painting the bottom of a pontoon boat is necessary to prevent algae build up and corrosion. Small pontoons need about 2 – 4 gallons of paint while larger boats can require 5 or more gallons. A gallon of antifouling bottom boat paint usually costs about $50 – $60 and you can save on the cost by painting it yourself.
Engine upgrade or replacement: Engines are all about horsepower. Commonly, small pontoons require around a 90 HP engine which costs between $12,000 to $14,000 and if you want to upgrade to 115 HP you can expect to pay an extra $2,000+. You should keep in mind that the lifespan of an engine is between 10 to 14 years while the lifespan of your boat is between 16 – 18 years. So you'll almost certainly need to replace the engine if you keep your boat for life.
Marina rentals costs: If you need to dock your boat and this will cost you between $1,500 to $2,500 per year (dependent on marina).
Boat insurance: Boat insurance is something you need to have and comes in at $100 to $360 per year.
Maintenance costs: $1,000+ per year depending on boat size and age.
Cleaning: $450 per year if you hire someone to do it.
State boating license: $50 to $75 per year.
Typical Luxury Pontoon Boat Costs
Luxury pontoons can be very expensive.
These large luxurious boats can be used to take entire families out on cruises and sea voyages and are designed to be super comfortable and very accommodating.
They usually have a high level of quality accessories such as:
Under deck lighting: Illuminating the boat from underneath creates a glitzy feel. Under deck lighting can be purchased for around $300.
BBQ mount grill: If alfresco cooking is your idea of a good evening on the water then invest in a BBQ mount grill. It can be bought for as low as $35.
Corner bumpers: These will help protect the sides of your luxury boat from sustaining damage. They can be bought for $30 each.
Stainless steel railings: These can be bought for $15 per railing. They not only look good but offer safety by providing onboard support when the boat is moving.
Monster swing tow bar: An expensive but handy item for towing water skiers, inflatable tube rides etc. It costs around $600.
Fire pit: Install a pontoon fire pit for $1,300 to stay warm in chilly evenings or in colder environments.
Maintenance: Maintaining a luxury pontoon boat can cost between $2,000 to $3,000 per year. It depends on the size and accessories onboard.
Typical Fishing Pontoon Boat Costs
A fishing pontoon boat can cost between $15,000 to $23,000.
Extra accessories will be required to convert it into a proper fishing pontoon boat.
Contributing Factors:
Trolling Motor
It's an electric driven outboard motor that is ideal for a fishing pontoon. It costs between $915 – $2,732 depending on horsepower.
This motor provides great control and will provide silent motoring of the boat at a steady speed so that the fish are not scared away.
Livewell
These can be bought for $100 – $300 and are necessary for a fishing pontoon.
A livewell is used to keep the fish alive and also for storing bait.
Fishing Rod Clamp
Fishing rods clamps can attach to the railings of the boat removing the need to hold the rod which reduces fatigue.
These cost between $20-$30.
Fuel
An average 90 HP motor will use 1 gallon of gas per 4.2 miles.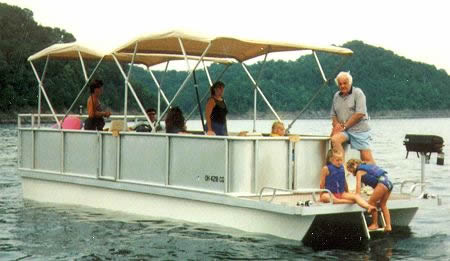 Cost of Building a Pontoon Boat
It is possible to build your own pontoon boat. However, the job will depend on a host of factors.
Essentially the most basic requirements to boat building lie in the skill and ability to construct the vessel regardless of the materials, methods and tools.
Of course, a lot of time and effort and not forgetting money, are also considerations.
Guide To Buying A Used Pontoon Boat
If you are budget-conscious then purchasing a used pontoon boat can be a wise option. Read our pontoon boat buyer's guide.
However, be aware of the boat's age. This is recommended because pontoon boats have a lifespan of only 18 years max before they start requiring a lot of repairs just to stay afloat which can cost more than the boat is worth.
It is a good idea to take a boating expert along to determine the condition of the pontoon before deciding on buying or not.
Don't forget the cost of a trailer if you don't want to leave your boat on the water permanent year-through. Be sure to read our pontoon boat trailer guide for more information on cost and read our pontoon boat trailer size guide.
Pontoon Boat Rental Cost
Now you know how much you need to spend to buy your own pontoon you may want to know the cost associated with renting one. So, how much does it cost to rent a pontoon boat?
Renting a pontoon boat can cost between $300 to $600 depending on the state.
here are a few examples:
Ottawa, IL = $450 for 6 hours
NY = $75 for 4 hours
Colorado = $375 for 8 hours
Wisconsin = $350 for 8 hours