Ready for a pontoon boat party? Great!
Here are 15 super fun pontoon boat party ideas for family, friends and even corporate days out.
15 uniquely fun yacht party themes for a party pontoon boat
Water sports challenge.
Diving competition.
To the buoy and back.
BBQ basics.
Music madness.
Movie night.
Foam party.
Themed party.
Get the funk out.
Pontoon prates.
Carnival cruising.
Water slide wonderland.
Trampoline fun.
Beach that boat.
Sky lantern liftoff.
Let's take a look at how to implement these 15 fantastic pontoon boat party ideas.
When your boat party theme needs to get competitive
A great way to have a party on your pontoon is to create fun and friendly competitions.
Water sports challenge yacht party theme for gaming on a party pontoon boat
When you have access to a boat that can travel fast you should use it to your advantage.
Water sports of all kinds are a great way to party on a pontoon boat. And the great thing is you can use this party idea for adults, kids and families.
As pontoon boats are great for pulling skis, rafts and tubes you can create some simple light-hearted competitions.
Use a good quality, safe boat tube and attach it to your pontoon boat. The rules are simple; whoever stays on the tube the longest wins!
Towable competitions are great for kids and families and you can have heats and even different categories where olders kids ride alone while younger kids ride with a parent.
For adults you can use rafts or skiis for an extra adrenaline rush (though towables are just as fun for adults as they are for kids).
Be sure to award fun winner's medals and a winner trophy to the winners as well as participation medals for the losers (you can even get funny ones that say "loser" for adults or toilet shaped ones). Adding these simple little touches, such as medals, will really help to make the day especially fun and also help to create memories that last a lifetime.
Diving competition yacht party theme or for fun a pontoon party boat
I love this pontoon boat party idea the best.
Gather all the contestants together and appoint three judges to score the contestants.
Make sure the judges are positioned away from the pontoon boat so that they have a good view of each person who is diving. Put them on a towable, or on shore, where they can view each constestant's dive
Have the judges use easy-wipe paddle scoreboards to judge each contestant after each dive.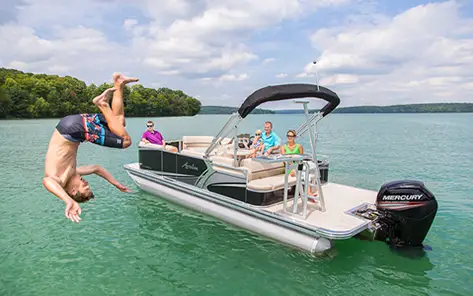 Keep the score range low, scoring each dive from 1 to 5,  so that no-one has really low scores while someone else has really high scores. With a low range, all scores will be very close to each other and so not upset any kids taking part.
Make sure the contestants dress up in funny costumes and award them points for artistic impression as well as the actual dive – make it less competitive and more fun!
Like you would for the water sports competition be sure to award winner's medals at the end and loser awards for fun.
To the buoy and back racing yacht party theme and pontoon party boat fun
What about some swimming competitions?
Testing each other's ability to race through the water is another good idea for creating some fun competition on your pontoon boat.
Again you can have medals and trophies for winners.
On the boat fun party ideas
You can party in other ways and on your pontoon boat.
Here are some great ways to party onboard.
BBQ basics yacht party theme works great on a pontoon party boat
Barbeque pontoon parties are great fun.
Whether you are having some tasty food with cold beer and a bunch of drinking buddies or just sipping on soda with family and friends BBQ food on a pontoon boat is a great way to kick off any party.
You can even set up two or more BBQs and have a little friendly competition to see who cooks the best food and in the most fun way. cut the food into dinosaur shapes or to look like fish. Be imaginative.
Using a BBQ with one of the other ideas given in this post will be a big winner with all your pontoon passengers when their activities make them hungry.
Music mindfulness yacht party theme and pontoon party boat madness
Get the boat anchored in the middle of a lake and start blasting those vibes!
There is nothing like the sound of catchy music booming on a banging boat.
All you need is your phone, or mp3 player, and some wireless waterproof speakers, which are surprisingly cheap.
Consider having dance-offs and dance competitions and incorporating themes into the music. You could have a 70's Saturday night fever disco vibe complete with big collars and flared trousers or a 90's long-haired musical bonanza as you strut your stuff to classic rock from Guns N' Roses, Poison and AC/DC.
What about a Pulp Fiction style dance-off to incorporate a bit of a Hollywood blockbuster into your musical madness?
Movie night yacht party theme can work well on a pontoon party boat
If you like to take things a little quieter then why not set up a large screen onboard with stereo speakers so you can watch the latest Hollywood blockbuster on the water?
With the right movie projector screen you could enjoy a relaxed viewing of your favorite movie in style onboard your pontoon boat.
Alternatively you could use a large projector to stream dance-off games from a Nintendo or similar device.
Foam yacht party theme is super fun a pontoon party boat
A foam party is great idea for a boat.
Although this is used mostly on yachts, and in enclosed cabin spaces on larger boats, a foam party can work on a pontoon boat under the right conditions.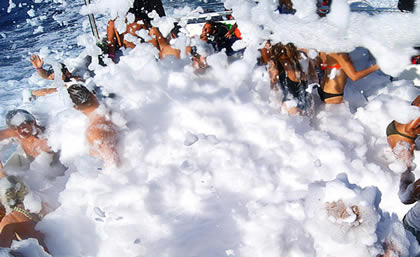 You will need calm weather with very little wind. As a pontoon boat has an open deck wind can easily blow away the foam. But, if conditions are just right then a foam party can be lots of fun.
The great thing about foam parties is that they are fun for all age groups. From 7 to 70, frolicking about in foam on a boat is a ton of fun. All you need is a foam machine and the right type of calm weather.
13 yacht themes that will also work on a pontoon party boat
Having a themed party on your pontoon boat is something I really recommend you do. Picking a theme and running with it, for boat decorations, food ideas and costumes is a great way to set the stage for a lot of onboard fun.
What's more, you can incorporate a themed party into any of the other ideas mentioned in this post.
Some themed ideas include:
Roman/Greek (complete with togas).
Hollywood oscars or Hollywood movies.
Game of Thrones.
The Sopranos/gangster.
Disney.
Star Wars.
Retro.
Arabian nights.
James Bond/spy.
Burlesque.
Vegas/casino night (which you could combine with a Sopranos/gangster theme).
Circus.
1920's Great Gatsby.
This list could be endless. Just let your imagination wonder.
Get the funk out yacht party theme that works well on a pontoon party boat
Why not have a funky themed day on your pontoon boat.
Although this falls into a themed party I think the funk deserves its own section.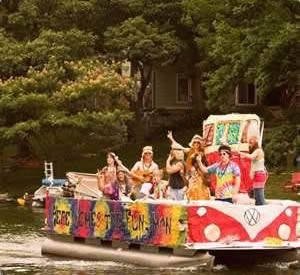 You can have so much fun dressing up like a swinging 60's peace-out Woodstock fan or a 70's disco diva dancing queen or groovy guy.
It is possible to decorate the entire pontoon in funky style like the one in the image shown above.
Pontoon pirates – no land ahoy on this pontoon party boat
What is a boat without pirates?
Pontoon boat party ideas don't get much better than a pirate themed party.
Have all passengers dress up as pirates and decorate your boat with pirate symbols while you fly the jolly roger from the stern of the pontoon.
There are a ton of pirate games you can play onboard your pontoon boat especially if you want to keep kids occupied and having fun. But, pirate themes are also great fun for adults.
Play pirate themed games and make the loser walk the plank by forcing them off the dive board.
Carnival cruising makes for a great yacht party theme or a fun pontoon party boat
Why wait to visit New Orleans to have a Mardi Gras? By having a carnival on your pontoon boat you can bring New Orleans to you and you don't have to wait until Shrove Tuesday.
In warm weather dressing up in carnival apparel is a great way to enjoy your time on the water.
As it's carnival time don't be afraid to let your imagine run riot. In the image below you can see that one group have kitted out their pontoon boat to replicate the monopoly board.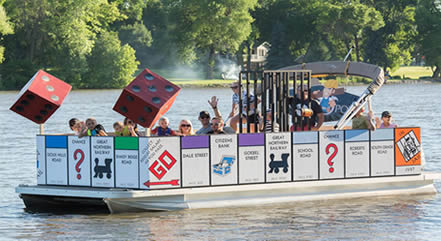 Be sure to have carnival music and plenty of carnival finger food onboard as well as lots of cold drinks.
Off the boat party fun
Even though your party will revolve around your pontoon boat you don't have to stay onboard to have a party.
Waterslide wonderland is a fun kid's yacht party theme or great for a pontoon party boat
Setting up a waterslide is a-must for a pontoon boat.
Waterslide parties are best for younger kids as they can have hours of fun doing different type activities on the slide. For a full-on waterslide party you are best using a slide that has multiple aspects to it rather than just containing a slide.
Waterslides that have an attached climbing frame, or simply using a seperate climbing frame, works great.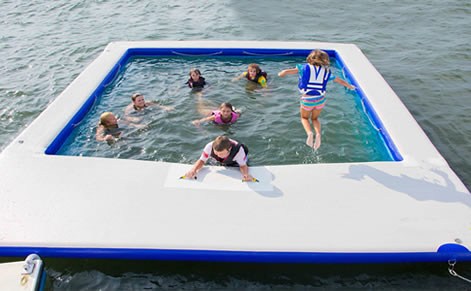 If you have very young children and are concerned about their safety while using a slide then you can get inflatable pools that attach to the boat. These pools have nets which limit the water depth for extra safety.
These boat pools can be used separately or placed at the bottom of a water slide.
Trampoline competitions for yachts or pontoon party boats
Diving isn't the only way to jump into the water from a pontoon boat.
Why not try a water trampoline?
Trampolines in the water are fantastically fun and just like the diving competition I mentioned earlier you could also have jumping competitions.
Using a trampoline in conjunction with a water slide, pool and water sports can turn your day on a pontoon boat into a whirlwind of water-based fun.
Beach that boat – perfect onshore entertainment for a pontoon party boat
The great thing about pontoon boats is that you don't have to stay on the water.
Due to the amazingly shallow draft of a pontoon it is easy to beach the pontoon boat so you can spend some time on shore.
This is a great way to have a beach party. As well as having a BBQ on the beach you can also incorporate some of the other activities such as movie night, music madness and give the entire party a theme.
As you are onshore you also incorporate other ideas such as a murder mystery game (using a murder mystery party kit) or set up some beach volleyball nets or soccer goal posts.
A light show onboard a yacht or pontoon party boat
When the party is coming to an end what can you do to place the icing on the cake, and the cherry on top, of what was a wonder party day onboard your pontoon boat?
Why not release some sky lanterns?
Sky lantern liftoff
Why not end the day on your pontoon boat, when the party is winding down, by releasing some sky lanterns?
You can have each person make a wish on the lantern as they light it just before they let it go.
Watching sky lanterns float above the water as the sky darkens is a beautiful sight.
This is a great way to end the pontoon boat party and leave everyone feeling great.
Be sure to check out these 55 unique and amazing pontoon boat accessories to make your pontoon boat party that much better!